Introduction
Natural Cleansing Soap with a patent of soap composition
They can use selectively four(4) kinds of soaps considering type of skin.
Obtained certification of skin safety test from US FDA.
Excellent effect of foam cleansing and moisturizing.
Obtained best Customer Satisfaction in a Korean leading open market.
Characteristics
Pine Needles Soap(Oily Skin)


- As it contains 100% extract of pine needles from pine trees, it has outstanding effect for antiaging, improvement of fine wrinkles and tannin component of pine needlesfor skin problems.

Garlic Soap(Sensitive Skin)


- Excellent effect for sterilization and antibacterial function by allicin components of garlic. Improves sensitive and dry skin to healthy and compactedly. Control skin problems.

Peony Soap(Skin-lightening effect)


- Component Gnetin-H of Peony is effective for skin-lightening. It is used for caring skin including problems of freckle, ephelis, liver spot.

Cornus Officinalis Soap(for dry skin)


- Material is extracted from crude liquid of Cornus Officinalis. It is appropriate to dry or tight skin which needs moisturizing.
Soap Test
1. Combustion Test
SOL NARA Soap
- Even though it is burned by heating, it will be changed in clean state as it is without soot or change of color! It is complete natural and chemical-free material.
General Soaps on the market
- When it is burned, it stinks of bad smell like chemicals and black soot with residue of combustion is remained.
2. Cleansing test of SOL NARA natural soap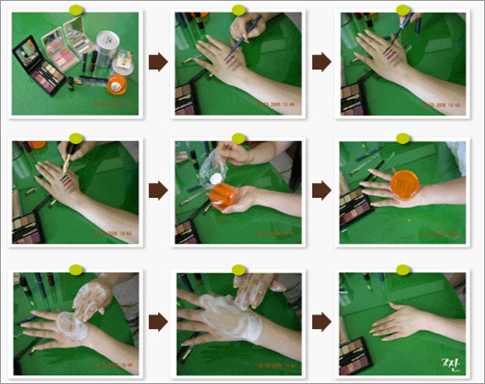 Excellent soapsuds (vegetable coconut oil)

- At the time of applying alkalescent makeup, eye-line and mascara would be cleaned out at a time which means excellent cleansing power power and remaining nothing of pore waste and residue of makeup.
SOLNARA Soap OEM